H
Y
G
I
E
N
E
A
N
D
P
R
O
T
E
C
T
I
V
E
M
E
A
S
U
R
E
M
E
N
T
Health security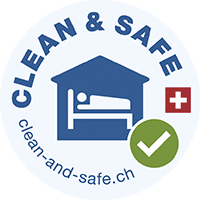 Please find the most important hygiene and protective measures at Le Mirador Resort and Spa as following:
In order to reduce the risk of the spread of the Coronavirus, the hotel is unable to host guests who are subject to quarantine due to COVID-19 infection. With these measures we protect our guests, team members and direct environment.
For all departments of Le Mirador Resort & Spa specific protective concepts have been elaborated to comply with the regulations of the Swiss Federal Council, the Swiss Federal Office of Public Health (FOPH) as well as the according hotel and gastronomic associations. The listed measures are subject to change.
All team members are trained on hygiene and protective measures.
Masks are now mandatory in all public indoor spaces (for guests & team members).
All team members who are working in the production of food are wearing protective gloves and masks.
All team members who oversee cleaning are wearing protective gloves and masks.
All public areas are equipped with hand disinfecting stations.
Only cleaning and hygiene products which are especially dedicated for the professional sector will be used.
The cleaning frequencies are increased. Especially the cleaning of door handles, surfaces and lift knobs are intensified.
The room key cards will be disinfected at check-in and check-out. 
Only the same group of guests is allowed to use the same lift. Employees use the next lift.
The rooms are cleaned according to the highest hygiene standards. We recommend that you do not stay in your hotel room when cleaning is in progress. 
Additional touchpoints are disinfected in the hotel room before every arrival: door bell, handles and knobs, window and balcony door handles, TV remote control, telephone, light switches, safe, coffee machine, hair dryer.  
All public areas and restaurants do comply with the rules of social distancing.
Suppliers and partners are urged to comply with hygiene and protective measures.
To prevent a possible further spread of the Corona virus, we politely ask our guests not to visit Le Mirador Resort & Spa in case they have not been well within the last 14 days prior to their visit, or have acute symptoms, such as fever, and/or coughing or any other cold symptoms.
As a further preventive precautionary measure to limit the spread of corona-virus, we kindly ask you to refrain from visiting Le Mirador Resort & Spa if you have visited a foreign country with increased risk of infection during the last two weeks (see current list of the Federal Office of Public Health), if you have not felt healthy within the last ten days or if you are currently suffering from fever, a cough or any other cold / flu symptoms.
We refer to the official channels of the Swiss Federal Office of Public Health (BAG) and the World Health Organization (WHO) for up-to-date information.
In compliance with the implemented hygienic measures, Le Mirador Resort & Spa can resume operations for our hotel and restaurant guests. A summary of our services and opening hours can be found on our website. Due to the current situation opening hours and services can be subject to change.
In addition, the management reserves the right to refuse entry to guests not respecting these house rules.
Please email reception@mirador.ch or call us +41 21 925 11 11 for any further information and we will be delighted to answer your questions.
We thank you for your kind understanding.